CarFax is the nation's most popular way to research the history of used cars, and not just by consumers. Whether you live in Lebanon, Indianapolis, or West Lafayette, or anywhere else for that matter, chances are your local dealership has an account. More than 29,000 car dealers in the United States have one.
But the reliability of CarFax's reports has recently been questioned because of attention from the settlement of a nationwide class-action lawsuit. The lawsuit alleged that CarFax's reports were not as comprehensive as CarFax claimed. The settlement will give millions who purchased a CarFax report before October 27, 2006 the opportunity to choose one free or multiple discounted reports, or a 20 percent discount on a vehicle inspection. Big whoop. My guess is that the discounted inspection is coming a little late for most of the CarFax report purchasers.
Anyway, this publicity emphasizes what should really be common sense – that there's really no way a report like this could be 100% accurate. A vehicle history report can certainly be a tool to use in making a used car purchase, but it should never be the sole reason to make a buying decision.
There can sometimes be a substantial lag time between damage to a vehicle and the time that information makes it into the CarFax database. And there are significant sources of relevant information that still are mostly not included in the database, such as insurance claims. With regard to insurance claims, though, that does seem to be changing recently.
CarFax itself has stated that they have never implied that a report was the only tool a buyer needed, stating "we've always encouraged people to get an inspection by a mechanic." And that really is the bottom line. If you aren't a mechanic or a person with significant automobile knowledge, the smartest thing you can possibly do in purchasing a used car is have it inspected by a mechanic. It will be worth every penny.
After all, you wouldn't want to purchase one of these vehicles unknowingly, would you?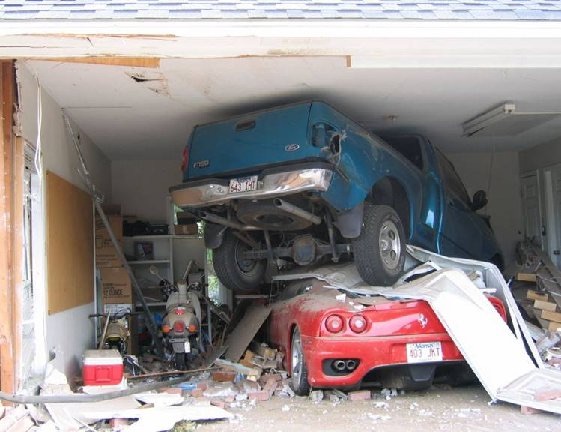 And no, I have no idea how that happened or even could have happenedI
As an interesting aside, guess who owns AutoCheck, CarFax's chief competitor? None other than Experian, of credit reporting fame.